Graduation ceremony 18 July 2023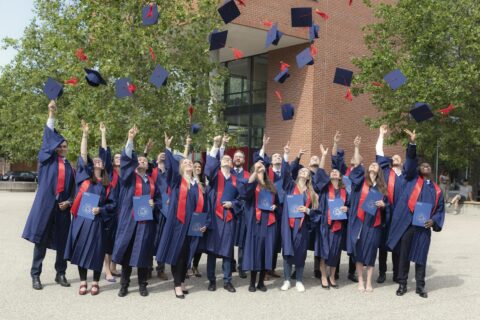 On Tuesday, 18 July 2023, the farewell ceremony for the doctoral graduates of the first two doctoral collection terms of the Department of Economics and Social Sciences was celebrated. There were 18 doctoral graduates and their escorts attending the ceremony in lecture hall H5 at the Nuremberg WiSo. Dean of Research Prof. Regina Riphahn, Ph.D., led through the programme of live music by Jasmin Dazert & Stephan Golser, the keynote speech by Dr. Roland Deinzer, the doctoral speech by Sascha Julian Oks, presentation of the graduation certificates and awarding of the Hermann Gutmann Doctoral Prizes. The ceremony ended with the traditional hat toss and a champagne reception in the foyer of the WiSo building in Lange Gasse.
FAU WiSo would like to extend its sincere congratulations on the successful completion of the doctorate and wishes all the best and much success for the future!
You can find all the pictures of the event here.